Happy Friday Folks!
It's that time of the year, when municipalities in Durham Region shine up their sleds, touch up the Reindeers and make sure Santa is fit to be riding through town. Here is a breakdown of all the Santa Claus parades happening in #ourdurhamlife! 🎅🏻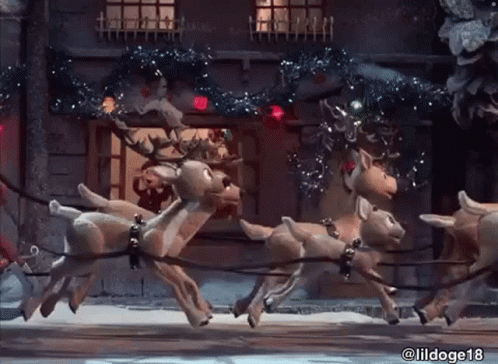 BOWMANVILLE – Saturday, Nov 19 - 10:30 am
UXBRIDGE - Saturday, Nov 19 - 11:00 am
OSHAWA - Saturday, Nov 19 - 6:00 pm
NEWCASTLE - Sunday, Nov 20 - 5:30 pm
PICKERING - Friday - Sunday, Nov 25-27 - 5:30 - 8:30 pm
(Winter Nights, City Lights)
AJAX - Saturday, Nov 26 - 6:00 pm
WHITBY - Saturday, Dec 3 - 10:00 am
PORT PERRY - Saturday, Dec 3 - 5:00 pm
With the snow we've had this week, and more in the forecast, these parades will definitely by "merry and bright."  Have fun!
🎁 Speaking of the Christmas Season...
More good news this week, as the Durham Region Police Service launched its' 34th annual Toy Drive. This is 🔥!
Thanks to the hundreds of volunteers who contribute thousands of hours to make this possible, in excess of 30,000 individuals and families from across the region continue to benefit from the Annual DRPS Food and Toy Drive every year.
All through November and December donations can be dropped off at any DRPS police station, the Regional Headquarters in Whitby, Clarington Fire Headquarters or any fire station 🚒 in Oshawa, Whitby, Ajax and Courtice.
The DRPS Food and Toy Drive is accepting "ALL" donations of non-perishable food items and new and unwrapped toys. And this year there is an increased need for food as the food banks have seen a decrease in donations due to higher food costs.
Monetary donations and cheques will only be accepted at their cash boxes located at our five Regional Police Division Front Desks.
If you can, pick-up a bag of groceries and drop it off. 🛒 Let's help our neighbours who need it. This is what it's all about in #ourDurhamLife.
💰 Good Financial News of the Week!
In honour of Education Savings Week (November 13 to 20) eligible families can now apply for the Canada Learning Bond.
Parents can apply for the Canada Learning Bond for their children, public caregivers can apply for children in care, and young adults turning 18 in 2022 can apply for themselves (adult beneficiaries).
Everything you need to know is all here on the Durham Region site. My Smart Future is another great site about these learning bonds.
Eligible families in Durham Region can receive up to $2,000 from the Government of Canada for their child's post-secondary education. The benefit is deposited directly into a Registered Education Savings Plan for the child.
To qualify for the Canada Learning Bond benefit:
the child must be born in 2004 or later.
the child must be a resident of Canada.
the net family income must be modest. A modest net family income is up to $50,197 for families with one to three children.
If you can, take advantage of this opportunity. Your kids will thank you later!
👏 Another First for Durham Region!
(we're just full of good news aren't we!)
For the first time in Durham Region a Punjabi Play is being performed in Ajax, at the J Clarke Richardson auditorium, this Saturday, November 20 at 4:30 pm.
Called 'Master Ji', it was written and is performed by Rana Ranbir, an Indian actor, writer, and director known for his work in the Punjabi Film industry. He started off his career as a stand-up comedian and then developed his own brand name in the movies.
This Punjabi language play for all ages, focuses on family entertainment, positive energy and respect towards others. Tickets are $30.
For More info Call Harpreet Singh at  416-822-1431

For more info on Rana Ranbir, you can follow him on IG
https://www.instagram.com/officialranaranbir/

And finally, as an FYI, Rana is starring in a movie coming out in Theatres on December 2. It's called, "Snowman" (The Dark Side of Canada) and the trailer for it is on this page.
Sounds like a fun afternoon... time to start those Punjabi lessons!
📅 Interesting events happening in #OurDurhamLife this week...
Saturday - Nov 19
Sunday - Nov 20
Wednesday - Nov 23
Chair Yoga
10:00 am - Newcastle Branch Library - Newcastle
Thursday - Nov 24
📡 On our Radar...
💡 Positive News from around the world... and maybe some of these ideas can come to #OurDurhamLife...
The Last Words...
"Let the trees teach you about change," is a common saying because the leaves shift and shed in autumn. Maybe we should be more like the trees. Maybe we should welcome change, embrace change, and accept that transitions are inevitable.
Source: Nedra Glover Tawwab, Therapist and NYT Best Selling Author
If you enjoyed this newsletter and see it's potential, please share it with your friends, family and colleagues. We would greatly appreciate it.
Until next time... do good!